Premium Trade Account
If you import cars from the UK to Ireland then our VRT Trade Account is for you.
The Premium VRT trade account includes:
VRT Calculation Reports
Independent VRT Calculation Reports
Vehicle Valuation Reports
Import Savings Reports
Please contact us if you would like to sign up for a premium account.
VRT Calculation Report
Simply enter the registration and mileage of the vehicle you are considering importing and you will receive a report in seconds.
View all your previous reports on a single page so you always have a record of previous reports.
VRT Calculation report is based on a best effort match of the vehicles in the revenue's database.
Independent VRT Calculation Report & Vehicle Valuation Report
Independent VRT Calculation report is based on accurate industry market data
Our Independent VRT Calculation Report will calculate the VRT you will need to pay when importing a car to Ireland.
This report generated is an independent VRT calculation using an independent valuation of the Irish market value of the vehicle based on accurate industry market data. This report is ideal for reviewing VRT quotes provided by revenue and estimating VRT on vehicles not in the revenue database.
The report includes a vehicle valuation based on accurate industry market data and an Independent VRT calculation for the vehicle.
Import Savings Report
Our Import Savings Report will estimate the potential savings and could save you €1000's by helping you identify the best value vehicle to import.
You provide the UK vehicle registration and the price of the vehicle in the UK. We will then estimate the vehicle's VRT, the vehicle's market price in Ireland using industry data, the current pound euro exchange rate and produce a custom report detailing the amount of money you are likely to save.
Preview of Trade Account Page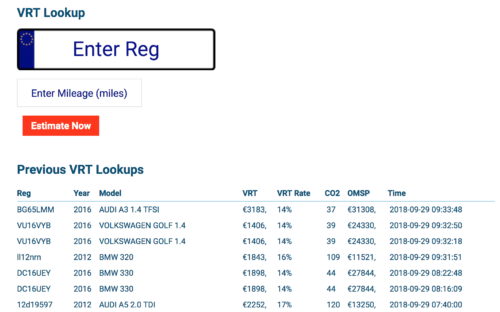 Premium Trade Account
was last modified:
October 7th, 2018
by